Details
Rose K2 Soft (3 month replacement soft lens for irregular corneas) is a keratoconus lens from the manufacturer Menicon.
• Manufactured in a silicone hydrogel material for a 3 month replacement modality.
• Feature aspheric back optic zone, front surface toricity and front surface abberation control for optimum visual acuity.
• Offer precise edge lift control, prism ballast stabilization and reverse geometry for a trouble-free wear.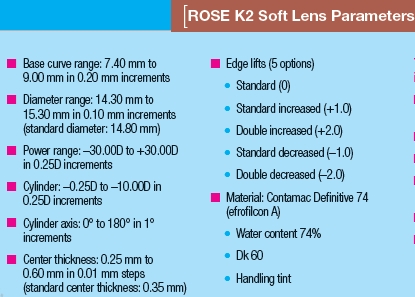 The ROSE K2 keratoconus lens design is the most widely prescribed RGP keratoconus lens in the world. It is a multi-spherical posterior design with aberration control aspheric optics across the back and front optic zone diameters and is available in any toric lens design.

Unlike traditional contact lenses, the complex geometry built into every Rose K contact lens closely mimics the cone-like shape of the cornea for every stage of the condition.

The result is a more comfortable fitting lens for patients and better sight (visual acuity).
---
We do not sell this lens as "payment at delivery".
Return policy: This lens is a "made-to-order" lens, it is not possible to cancel the order. Also, this lens cannot be returned or exchanged.